Fairfield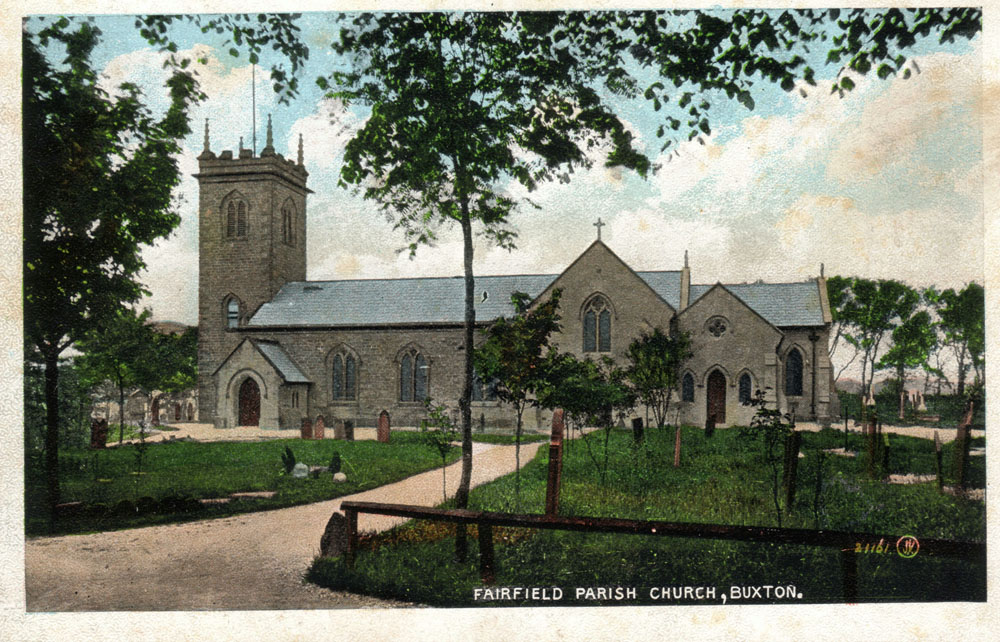 During the mediaeval period, Fairfield was a small single street village high up on the limestone plateau of the White Peak as also were Higher Buxton, Chelmorton, Taddington, Sheldon and various other small settlements on either side of the Wye Valley. In Norman times, Fairfield was in the Royal Forest of the Peak, the boundary of which lay along the Wye valley.

The Tithe Map of 1843 shows the "Township of Fairfield in the Parish of Hope" still as a single street village along Waterswallows Road together with the area around the church, separated by the road leading to Dove Holes but the whole township also covered an extensive rural area. This stretched westwards towards Gadley Lane and Nithen End, with the Wye as the boundary with Buxton township, northwards towards Batham Gate and eastwards to Woo Dale, again with the Wye as the southern boundary. So, before the creation of the borough of Buxton in the late 19th century, the area now occupied by Park Road, the Devonshire Dome, Corbar Woods and Corbar road were in the Fairfield Township.

The arrival of the railway to Buxton in 1863 (with a special halt for the race course on Fairfield Common) led to a growth of population in Buxton and a major growth in the local limestone quarrying industry, each of which contributed to a sustained residential growth in Fairfield.
Fairfield Road is one of the major road arteries of Buxton (now the A6). Established as a Turnpike Road to Sheffield in 1759 with the later addition of a branch towards Barmoor Clough in 1820, the steep climb from the river valley leads to congestion problems at busy times.

We would like to add more to our Fairfield section. Do you have images that you could contribute? Please get in touch.
Green Fairfield
Fairfield Church
Fairfield Common
Lost territory
Fairfield Band
Fairfield Residents Association
The A6 what we can do? (see
Ashwood Dale
Golf Course
How our places and spaces have changed