Dawn Chorus Grin Woods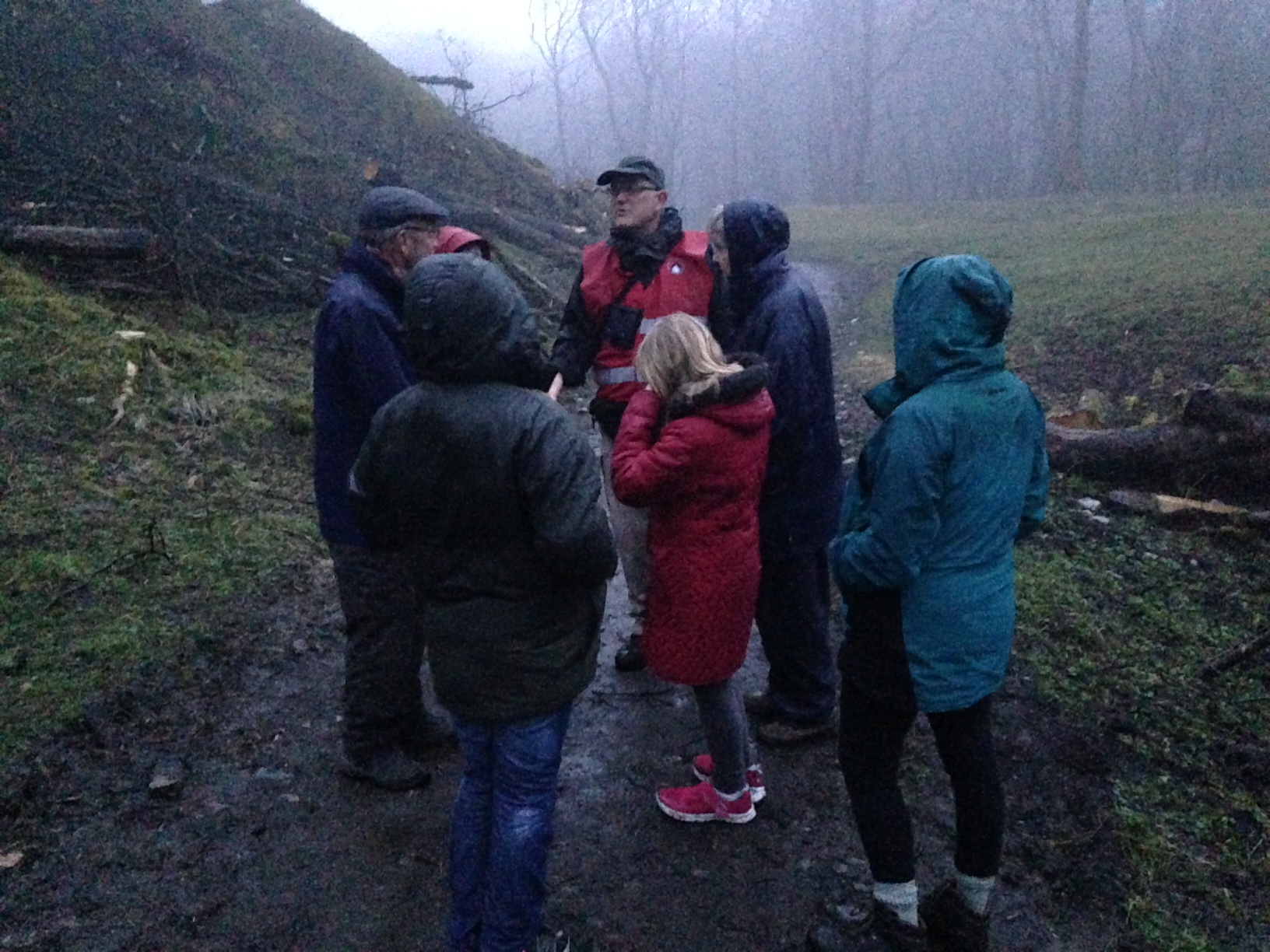 Listening intently in the rain.
Report on BCA members dawn chorus walk

International dawn chorus day dawned, wet, very wet, and with just enough of a wind to make sure that you stayed chilled and cold. So it was just before five am on Sunday morning, that we, six adults and two children, gathered in Poole's Cavern visitor's car park, with rapidly dampening spirits and even damper Cagoules to celebrate international dawn chorus day with an early morning walk in Grin woods. A song thrush was awake though and despite the rain, sang us a welcome song, as we set off into the gloom and dankness of grin wood. Now I am not going to claim that I know the wood like the back of my hand, but over the twenty five years that I have been walking there, I guess I would say that I know it reasonably well. Not as well as the younger members of our party though. They seemed to know all the secret paths, and having the super observational skill of the young, had soon spotted what they thought might be badger claw marks. They might well have been right, but by now any self-respecting badger would have been tucked up in his sett; dry, warm, cosy and settling down for a nice lie in.

We stopped by the tree with the swinging branch and listened. Blackbirds and Robins competed with each other orchestrating a beautiful melody whilst in the background a wren favoured a more atonal call. As we moved on the rain intensified, robins and blackbirds continued to vie for pride of place and Steve claimed he heard a tree creeper.

We stopped again in the clearing that links the glades. A wood pigeon made a brief appearance, a blue tit kept up a steady barrage, and a couple of crows called from the top of the canopy. The light fitfully and reluctantly chased away the shadows and the wood began to resemble its old familiar self. The birds were falling silent. The rain was steady; we beat a hasty retreat back to the car park. It had been an experience.

The number and variety of species that we heard on Sunday was disappointing even allowing for the rain. One of the reasons for creating the woodland ride is to increase the variety of habitats available , that will in the long run improve the bio diversity of the wood and lead to an increase in the range of flora and fauna.

Species that we didn't hear but we know are in the woods are; Nuthatch, Coal and Great Tit, Chiffchaff, Willow Warbler and Pied Flycatcher.

You can listen to a short clip of the some of the species that we heard by clicking on the link below.